Assalammualaikum.. sapa guna window 7? guna SP (service pack) apa?? apa yang better?? entah la.. aku pun tak tau lah.. hehe.. tapi bagi korang2 yang nak merasa SP1 punya.. boleh lah datang ramai2 download benda ni. tapi sebelum tu, meh ramai ramai baca ni dulu :
Windows 7 SP1 will help you:
- Keep your PCs supported and up-to-date
- Get ongoing updates to the Windows 7 platform
- Easily deploy cumulative updates at a single time
- Meet your users' demands for greater business mobility
- Provide a comprehensive set of virtualization innovations
- Provide an easier Service Pack deployment model for better IT efficiency
PERHATIAN !!!
SERVICE PACK 1 ADALAH UNTUK PENGGUNA WINDOWS 7 SAHAJA
Ni adalah Offline Installer utk UPDATE SEMUA VERSION Windows 7 & Windows Server 2008 R2 yg sedia ade di PC korang..

korang

TIDAK PERLU FORMAT PC

utk install update ni...
Just Download & Install pada Windows 7 or Windows Server 2008 R2



>>Boleh di install pada Windows 7 ORIGINAL & PIRATE

<<
Juz Download & install...
Also available thru 'Windows Update"
*Proses installation akan mengambil masa 1/2 jam - 1 jam bergantung pada kelajuan PC korang...
"Service Pack 1 For Windows 7

(32bit

)" [500MB]
"Service Pack 1 For Windows 7 (

64bit

)" [900MB]
Kalo ada masalah ngan Activation, sila pakai loader ni ye..
Windows Loader v1.9.7 by Daz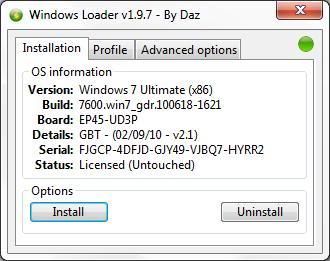 download window loader:
RAR Password: FreeRyde

(copy je)
sumber : SYOK
~LEAVE ME A COMMENT SO THAT I KNOW WHO R MY READER~